RtBrick's routing software is ideal for large scale service deployments such as a BNG (Broadband Network Gateway) or PE Router (Provider Edge), where you need to create a highly automated and scalable operating environment with a low cost-point. You can do this by applying a web-scale approach to your carrier network to create a SD-CO (Software-Defined Central Office).
You can re-use your existing routing infrastructure to continue to provide lower volume legacy services, and optimize the rest of the network for the bulk of your traffic - providing large volumes of high bandwidth services at a lower cost-point in an automated operating environment, replacing high-cost legacy BRAS or BNG systems, for example. This also allows your SD-CO to act as a service cross-connect, routing each subscriber to the appropriate network infrastructure. The SD-CO can support subscriber termination for PPPoE and IPoE services on the Access Leaf Routers, as well as L2 wholesale services. It can also support L2X cross connect to scale expansion horizontally to other PoDs.
Example: Software-Defined Central Office as a BNG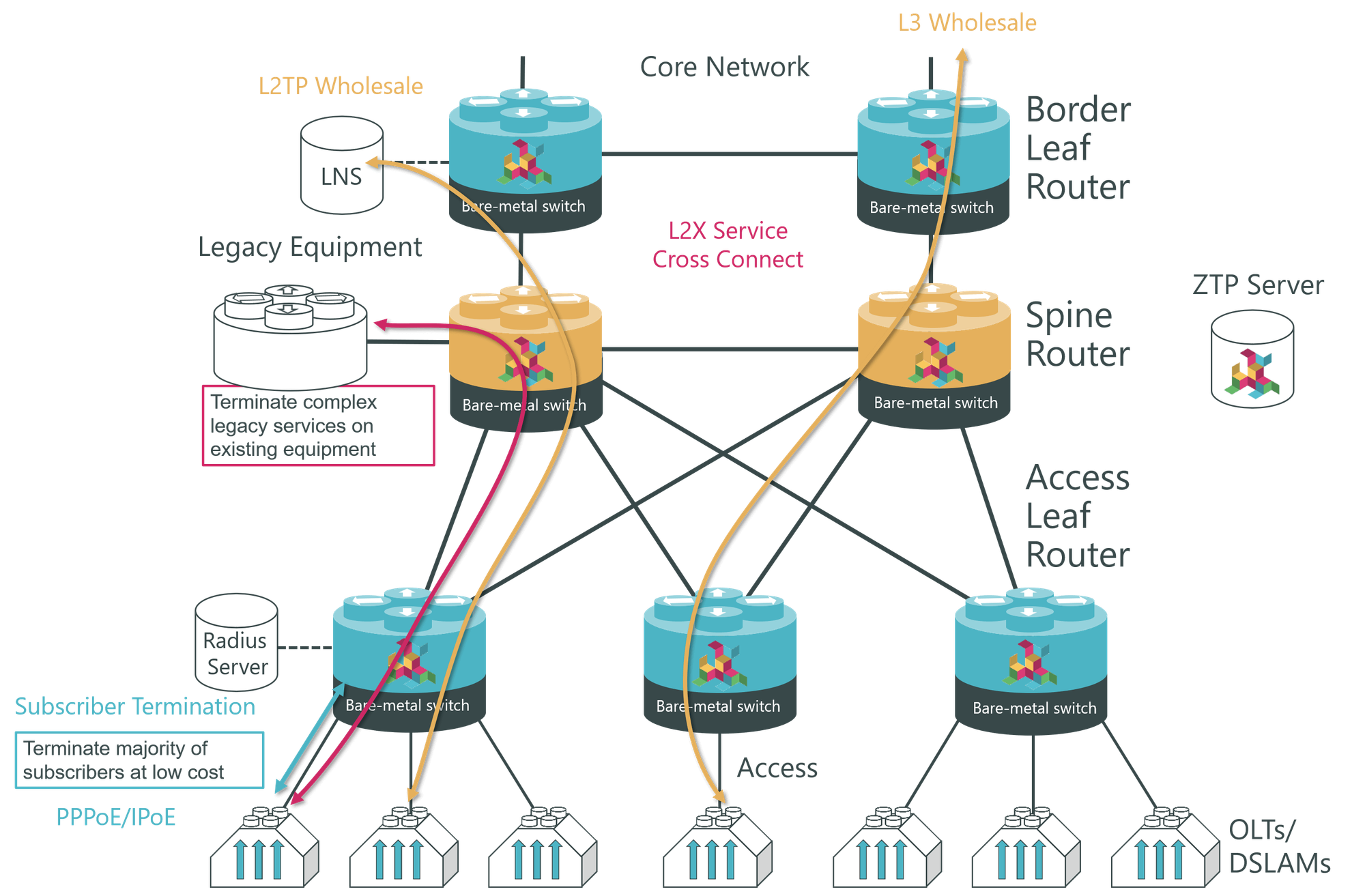 Scaling the Software-Defined-Central Office
All of RtBrick's routing functions can be collapsed onto a single hardware platform, either a bare-metal switch or even an x86 processor. But for large scale carrier deployments, the SD-CO can be scaled vertically and horizontally by introducing leaf, spine and border routers.
RtBrick's leaf routers aggregate and terminate IP services and fixed broadband access subscribers, including DSL and FttH. The spine routers aggregate traffic from leaf routers and connect to existing equipment to terminate legacy services. And RtBrick's border leaf routers connect to the core of your network or the Internet, creating a web-scale SD-CO (Software-Defined Central Office).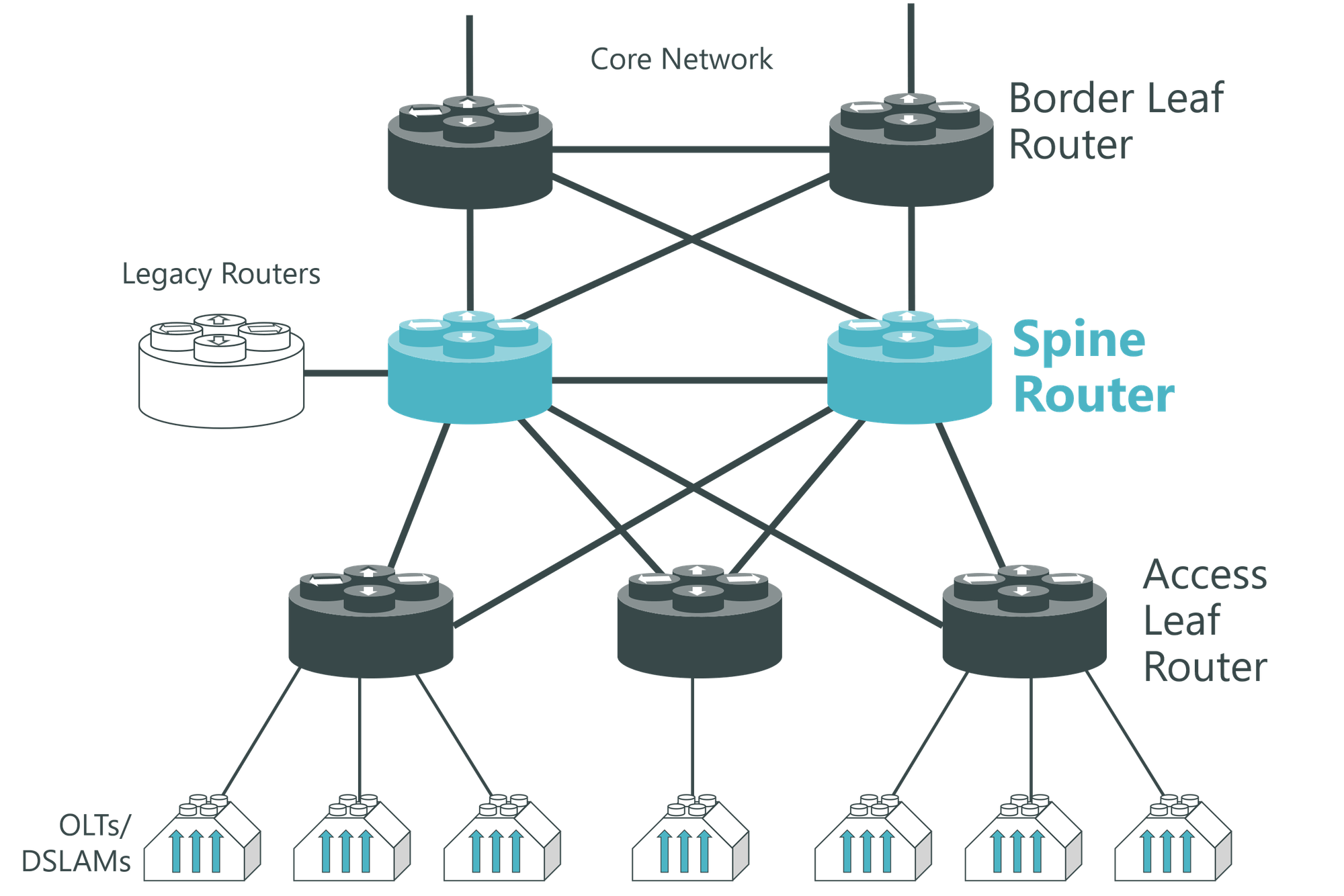 They are all created by using a different flavour of RtBrick's FullStack routing software, each of which includes only the features you require for your specific use-case.l The software runs on your choice of Linux OS and commodity bare-metal switching hardware. A list of compatible hardware is available here. Please contact us to see whether we can operate with other hardware platforms of your choice.
Operating the Software-Defined-Central Office
You can manage your whole network from a single browser window, using the RtBrick Management Suite. And you get automation straight out-of-the-box. Simply power-on your bare metal switches and they will self-register, download the correct software image, discover their topology and all microservices self-start. Automated software version management reduces risk of human error, and new microservices can be updated and tested independently of other operating software. The system also includes tools to simplify repair, such as 'clone a switch' for zero-touch replacement of broken hardware. And there's in-depth alarm and status management, with thresholds and abnormalities automatically flagged: from data rates to fan speeds. You can glue this into your existing OSS using REST and RPC APIs, such as gNMI (Google Network Management Interface). The cost will be significantly lower than traditional systems.
Example: Deutsche Telekom's next generation access project
Deutsche Telekom is a good example of a carrier looking to benefit from a disaggregated access network, with their Access 4.0 project.
"The focus is on having a more open, more flexible solution. The whole story is about disaggregation of hardware and software. RtBrick brings a piece of software that sits on the switches. They have built software that can program Broadcom chips, so they do the full BNG function." Robert Soukup, DT's senior program manager for Access 4.0 (quoted in an interview with FierceTelecom, March 2019)