This article is from Gazettabyte. The original article was published on February 24, 2020 and is available here.
Deutsche Telekom has a working software platform for its Access 4.0 architecture that will start delivering passive optical network (PON) services to German customers later this year. The architecture will also serve as a blueprint for future edge services.
Access 4.0 is a disaggregated design comprising open-source software and platforms that use merchant chips - 'white-boxes' - to deliver fibre-to-the-home (FTTH) and fibre-to-the-building (FTTB) services.
"One year ago we had it all as prototypes plugged together to see if it works," says Hans-Jörg Kolbe, chief engineer and head of SuperSquad Access 4.0. "Since the end of 2019, our target software platform – a first end-to-end system - is up and running."
Deutsche Telekom has about 1,000 central office sites in Germany, several of which will be upgraded this year to the Access 4.0 architecture.
"Once you have a handful of sites up and running and you have proven the principle, building another 995 is rather easy," says Robert Soukup, senior program manager at Deutsche Telekom, and another of the co-founders of the Access 4.0 programme.
Origins
The Access 4.0 programme emerged with the confluence of two developments: a detailed internal study of the costs involved in building networks and the advent of the Central Office Re-architected as a Datacentre (CORD) industry initiative.
Deutsche Telekom was scrutinising the costs involved in building its networks. "Not like removing screws here and there but looking at the end-to-end costs," says Kolbe.
Separately, the operator took an interest in CORD that was, at the time, being overseen by ON.Labs.
At first, Kolbe thought CORD was an academic exercise but, on closer examination, he and his colleague, Thomas Haag, the chief architect and the final co-founder of Access 4.0, decided the activity needed to be investigated internally. In particular, to assess the feasibility of CORD, how bringing together cloud technologies with access hardware would work, and quantify the cost benefits.
"The first goal was to drive down cost in our future network," says Kolbe. "And that was proven in the first month by a decent cost model. Then, building a prototype and looking into it, we found more [cost savings]."
Given the cost focus, the operator hadn't considered the far-reaching changes involve with adopting white boxes and the disaggregation of software and hardware, nor the consequences of moving to a mainly software-based architecture in how it could shorten the introduction of new services.
"I knew both these arguments were used when people started to build up Network Functions Virtualisation (NFV) but we didn't have this in mind; it was a plain cost calculation," says Kolbe. "Once we starting doing it, however, we found both these things."
Cost engineering
Deutsche Telekom says it has learnt a lot from the German automotive industry when it comes to cost engineering. For some companies, cost is part of the engineering process and in others, it is part of procurement.
"The issue is not talking to a vendor and asking for a five percent discount on what we want it to deliver," says Soukup, adding that what the operator seeks is fair prices for everybody.
"Everyone needs to make a margin to stay in business but the margin needs to be fair," says Soukup. "If we make with our customers a margin of 'X', it is totally out of the blue that our vendors get a margin of '10X'."
The operator's goal with Access 4.0 has been to determine how best to deploy broadband internet access on a large scale and with carrier-grade quality. Access is an application suited to cost reduction since "the closer you come to the customer, the more capex [capital expenditure] you have to spend," says Soukup, adding that since capex is always less than what you'd like, creativity is required.
"When you eat soup, you always grasp a spoon," says Soukup. "But we asked ourselves: 'Is a spoon the right thing to use?'"
Software and White Boxes
Access 4.0 uses two components from the Open Networking Foundation (ONF): Voltha and the Software Defined Networking (SDN) Enabled Broadband Access (SEBA) reference design.
Voltha provides a common control and management system for PON white boxes while making the PON network appear to the SDN controller that resides above as a programmable switch. "It abstracts away the [PON] optical line terminal (OLT) so we can treat it as a switch," says Soukup
SEBA supports a range of fixed broadband technologies that include GPON and XGS-PON. "SEBA 2.0 is a design we are using and are compliant," says Soukup.
"We are bringing our technology to geographically-distributed locations - central offices - very close to the customer," says Kolbe. Some aspects are common with the cloud technology used in large data centres but there are also differences.
For example, virtualisation technologies such as Kubernetes are shared while large data centres use OpenStack which is not needed for Access 4.0. In turn, a leaf-spine switching architecture is common as is the use of SDN technology.
"One thing we have learned is that you can't just take the big data centre technology and put it in distributed locations and try to run heavy-throughput access networks on them," says Kolbe. "This is not going to work and it led us to the white box approach."
The issue is that certain workloads cannot be tackled efficiently using x86-based server processors. An example is the Broadband Network Gateway (BNG). "You need to do significant enhancements to either run on the x86 or you offload it to a different type of hardware," says Kolbe.
Deutsche Telekom started by running a commercial vendor's BNG on servers. "In parallel, we did the cost calculation and it was horrible because of the throughput-per-Euro and the power-per-Euro," says Kolbe. And this is where cost engineering comes in: looking at the system, the biggest cost driver was the servers.
"We looked at the design and in the data path there are three programmable ASICs," says Kolbe. "And this is what we did; it is not a product yet but it is working in our lab and we have done trials." The result is that the operator has created an opportunity for a white-box design.
There are also differences in the use of switching between large data centres and access. In large data centres, the switching supports the huge east-west traffic flows while in carrier networks, especially close to the edge, this is not required.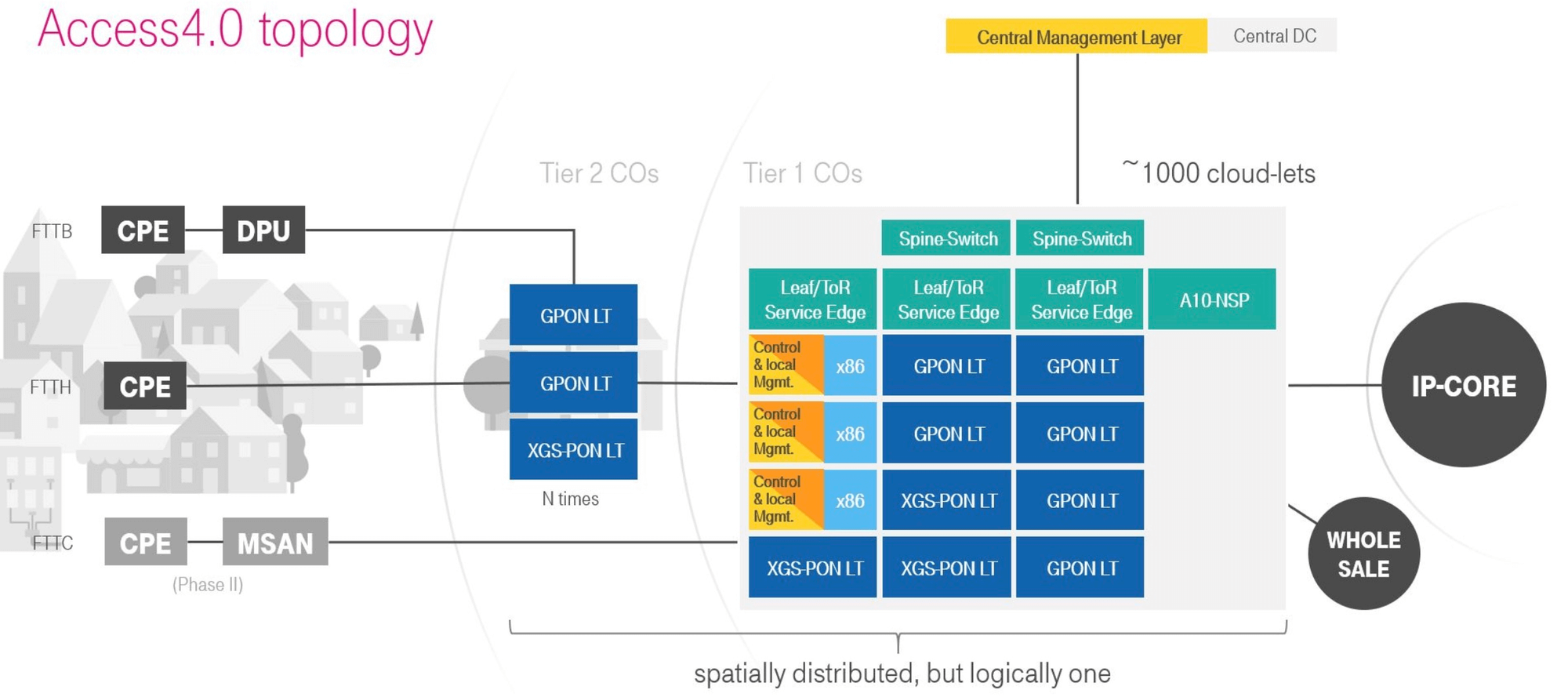 Source: Deutsche Telekom
Instead, for Access 4.0, traffic from PON trees arrives at the OLT where it is aggregated by a chipset before being passed on to a top-of-rack switch where aggregation and packet processing occur.
The leaf-and-spine architecture can also be used to provide a 'breakout' to support edge-cloud services such as gaming and local services. "There is a traffic capability there but we currently don't use it," says Kolbe. "But we are thinking that in the future we will."
Deutsche Telekom has been public about working with such companies as Reply, RtBrick and Broadcom. Reply is a key partner while RtBrick contributes a major element of the speciality domain BNG software.
Kolbe points out that there is no standard for using network processor chips: "They are all specific which is why we need a strong partnership with Broadcom and others and build a common abstraction layer."
Deutsche Telekom also works closely with Intel, incumbent network vendors such as ADTRAN and original design manufacturers (ODMs) including EdgeCore Networks.
Challenges
About 80 percent of the design effort for Access 4.0 is software and this has been a major undertaking for Deutsche Telekom.
"The challenge is to get up to speed with software; that is not a thing that you just do," says Kolbe. "We can't just pretend we are all software engineers."
Deutsche Telekom also says the new players it works with - the software specialists - also have to better understand telecom. "We need to meet in the middle," says Kolbe.
Soukup adds that mastering software takes time - years rather than weeks or months - and this is only to be expected given the network transformation operators are undertaking.
But once achieved, operators can expect all the benefits of software - the ability to work in an agile manner, continuous integration/ continuous delivery (CI/DC), and the more rapid introduction of services and ideas.
"This is what we have discovered besides cost-savings: becoming more agile and transforming an organisation which can have an idea and realise it in days or weeks," says Soukup. The means are there, he says: "We have just copied them from the large-scale web-service providers."
Status
The first Access 4.0 services will be FTTH delivered from a handful of central offices in Germany later this year. FTTB services will then follow in early 2021.
"Once we are out there and we have proven that it works and it is carrier-grade, then I think we are very fast in onboarding other things," says Soukup. "But they are [for now] not part of our case."